Joseph Humbertus Pilates was born on December 8, 1880 in the German town of Monchengladbach, near Dusseldorf.
His childhood was plagued by many diseases such as rickets, asthma and rheumatic fever. Of Greek descent, its original name was "Pilatu", but it was changed to Pilates so… what is Pilates?
During his youth, willing to overcome his childhood ailments, Pilates practiced various physical disciplines, including bodybuilding, gymnastics, skiing and boxing. He was a student of human and animal anatomy. A relative gave him a book when he was just a child and he memorized every part of his body while exercising.
Improvement
This desire for improvement made him develop his body to the point that, at the age of 14, Joseph was already posing as a model for anatomy, which were exposed in his study in New York years later.Son of a gymnastics champion and a naturopath. Which influenced the path that the rest of his life would follow, devoting himself to the areas of movement and well-being.
He was a self-taught in most of the sports and disciplines he practiced, being strongly inspired by the forms of Eastern and Western exercises and in particular, by the ancient Greek and Roman philosophies of achieving and maintaining physical and mental perfection. Boxing, yoga, self-defense, Greco-Roman wrestling, diving, gymnastics and skiing were some of the disciplines that nurtured his knowledge of the human body.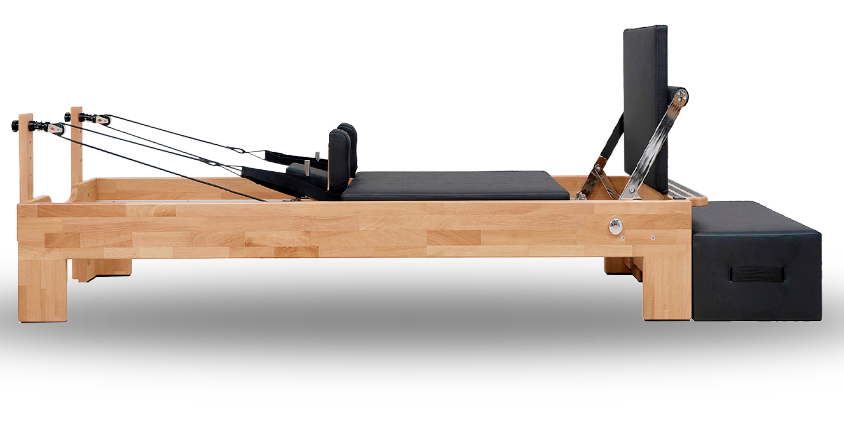 As for the story of how Pilates traveled to England in 1912, two versions are known. One notes that he had decided to pursue boxing; the other that he and his brother toured England with a circus, acting as living Greek statues. Due to the outbreak of World War I in 1914, he was held, along with other German citizens, in a field for foreign enemies located in Lancaster. There he taught self-defense, motivating others to follow his Fitness program and boasting that his students would leave there stronger than when they were held.
It was there that he began to conceive his system of original exercises, which he later called "Contrology". Using bed springs and improvising exercises with bedridden devices, he devised his first rehabilitation equipment. As he would later say "why use my strength when a machine can do it for me".
Joseph's Life
Joseph Pilates was transferred to a camp on the Isle of Man and there, he became something like a nurse who worked with inmates suffering from wartime diseases. In 1918, an influenza epidemic ravaged the world killing millions of people – only in England tens of thousands. Legend has it that none of Joe's followers succumbed to the disease, even though the concentration camps were the most affected.
After the war, he returned to Germany and worked with the Hamburg Military Police, training people in self-defense and physical training. At that time, he began to have his first private clients. This is a period where he grew interested in holistic therapies in Eastern Europe, such as holistic medicine, meditation, modern dance, homeopathy, activation therapy (Trigger Point Therapy) and work with breathing.
His life in Germany
During this period, Pilates met the famous movement analyst Rudolf von Laban, who is said to have incorporated some of Joseph's theories and exercises into his own work. Mary Wigman, a renowned German dancer and choreographer, was a student of Pilates and incorporated her exercises in her warm-up sessions for dance.
In 1925, the government asked Pilates to take care of the training of the new German Army and there are sources that point out that Pilates decided to emigrate to the United States because he did not like the direction in which Germany politically outlined.
Another version is that the march of his native country was motivated by an invitation from American boxing manager Nat Fleischer and Max Schmeling, a world champion boxer who was also friends with Joseph.
How he meets Clara
Joe travels to the US and on the trip he meets Clara, who will be his second wife. Clara a young nurse, who suffered from arthritis. Joe helped her relieve the pain she suffered through physical exercise. She became his wife and shortly thereafter, an integral companion, who helped him develop and teach his method.
Joe arrived in New York City in 1926 and began working in a boxing training gym located at 939 on 8th Avenue, the same building where several dance schools and rehearsal studios were located. By the early 1930s, he and Clara had already owned the gym.
The news of Joe's skills in his work with injuries spread word of mouth and his clientele increased rapidly. This was diverse: it included people from New York high society, such as members of the Gimbel and Guggenheim families, as well as film stars such as Vivien Leigh, Sir Lawrence Olivier and Katherine Hepburn, among others. He also worked with doctors, circus artists, gymnasts, musicians, dancers, businessmen, merchants and students.
The 30's and 40's
The decades of the 30s and 40s were those of the first years of American ballet and modern dance. Many stars like George Balanchine, Ted Swawn, Ruth St. Dennis, Martha Graham, Hanya Holm and many other lesser-known dancers, studied with "Uncle Joe" and sent him injured dancers for rehabilitation, strengthening and balance improvement.
"Contrology" became an intrinsic part of the training and rehabilitation of dancers. Among these dancers would be much of the first generation of Pilates teachers, including Carola Trier, Eve Gentry, Romana Kryzanowska, Ron Fletcher, Kathleen Stanford Grant, Bruce King and Lolita San Miguel.
Most of the aspiring teachers would work in the gym in exchange for exercise sessions. Hannah Sakmirda was the permanent assistant of Joe and Clara. Other first-generation teachers include Jerome Andrews, Bob Seed, Nadja Cory and Mary Bowen.
Pilates' most beloved students and assistants were her nieces, Mary Pilates and Irene Zeuner Zelonka. Every summer between 1939 and 1951, Joe and Clara spent their weekends and several weeks of relaxation by stretching and teaching at Jacob's Pillow, a well-known dance camp located in the Berkshire Mountains.
His Books
Pilates wrote two books: Your Health, in 1934; and Return to Life, in 1945, a fine treatise on his philosophy. In that book, he writes with passion, that if his method were universally adopted and used as texts in our educational institutions, all facets of life, "from the individual to the universal" would improve. "Contrology" could eliminate human suffering and reduce our need for hospitals, sanatoriums, mental hospitals and even prisons.
His good friend Dr. Henry Jordan, Chief of Orthopedics at Lenox Hill Hospital, was a great advocate of Pilates' work. Dr. Jordan referred many of his patients to Pilates and it was he who sheltered Carola Trier. Some of Dr. Jordan's students also became important traumatologists and they also sent patients to Pilates, Carola and some of the younger teachers.
Joe did not cease his efforts and continued to promulgate that a body developed in an adequate and balanced way physically and mentally, was an indispensable requirement for good health. In January 1966, there was a fire at 939 on 8th Avenue. Joe tried to save what he could and fell through the burned boards of the floor, hanging from the hands of a crossbar until he was rescued by firefighters. Joseph Hubertus Pilates passed away in 1967 at the age of 87.
His wife Clara
His wife, Clara, considered by many to be the most splendid and perhaps the most accessible teacher, continued teaching and conducting the study for several years until his retirement, approximately in 1970. She died in 1976. Until 1975, Romana returned from Peru where he married and lived for more than 15 years, the Pilates study did not have a clear successor.
Despite these rejections, silently, the method was taking root in several Manhattan institutions, including New York University, the Higher School of Performing Arts, the Harlen Dance Theater, 92nd St. and the Clark Center for Performing Arts. By mid-1960s, the Pilates method had begun to spread outside of New York.Jerome Andrews moved to Paris, Eve Gentry to New Mexico and Ron Fletcher to California. That first generation continued practicing and teaching Pilates philosophy and techniques.
In the 80's
In the 80s, the second generation of teachers began to apply their practices throughout the country, while the Pilates Studio in New York had its own ups and downs, owner changes, removals to other facilities, and an untimely shutdown.
Although Romana Kryzanowska continued to direct it. Soon new studies and formal programs for teacher training would appear. In 1983, at the St. Francis Hospital in San Francisco, California, Dr. James Garrick, Director of Orthopedics, created one of the first dance medicine clinics. Garrick earned a name for recognizing the value of the Pilates method and hired Ron Fletcher to help him set up the first Pilates program with a medical base.
The Pilates method is taught in major countries around the world and today, there are more than twelve million people who practice it. Joe knew that his work was "50 years ahead of his time." Their intuitive understanding of the body and the innovative design of their equipment are simply components of their broader vision of a universal paradigm for a healthy life.
By Inara González @inarajgt