An Apparatus
An apparatus refers to a set of equipment, tools, or devices that are organized and used together for a specific purpose or function. It's a term often used in scientific, technical, or specialized contexts to describe a collection of instruments or components that work in conjunction to achieve a particular task or goal. Apparatuses can vary widely in complexity and can be found in various fields, including science, research, industry, and everyday life.
For example, in a laboratory setting, a chemistry apparatus might consist of various glassware, containers, and instruments used for conducting experiments. In a medical context, an apparatus could refer to a piece of medical equipment used for diagnostic or therapeutic purposes, like an X-ray machine or an MRI scanner. In sports, an apparatus might refer to the equipment used in activities such as gymnastics or weightlifting.
In essence, an apparatus is a combination of tools and devices designed to work together harmoniously to accomplish a specific function or task.
A Machine
A machine is a mechanical or electronic device designed to perform specific tasks or functions with the help of various mechanisms, systems, and components. Machines can range from simple devices like levers and pulleys to complex systems like computers and robots. They are created to make tasks easier, more efficient, or possible in situations where human effort alone might be insufficient or impractical.
Machines are typically built based on engineering principles and are designed to convert input energy (such as electricity, fuel, or human effort) into useful output energy to accomplish a particular function. They can be found in various domains, including manufacturing, transportation, communication, healthcare, entertainment, and more. Some machines are entirely mechanical, while others combine mechanical components with electronic, software, or digital elements to achieve their intended purposes.

Pilates apparatus refers to specialized equipment used in Pilates, a system of exercise that focuses on improving flexibility, strength, and body awareness. Pilates was developed by Joseph Pilates in the early 20th century and has become popular as a form of physical fitness and rehabilitation.
Pilates apparatus are designed to provide resistance and support while performing various Pilates exercises. These apparatuses utilize springs, straps, pulleys, and other mechanisms to create resistance and assistance, allowing individuals to target specific muscle groups and movements with precision. Some common Pilates apparatus include:
Reformer: A sliding platform with attached springs and pulleys that can be adjusted for resistance. Users perform exercises by pushing or pulling the carriage while lying, sitting, or kneeling on the platform. The Pilates reformers are the most well-known and used piece of Pilates apparatus. Pilates on the reformer provides a full-body workout that emphasizes both strength and flexibility. The Pilates reformer challenges stability and control while encouraging precise and mindful movement.
Cadillac (Trap Table): A raised table with an overhead frame that includes bars, straps, and springs. It allows for a wide range of exercises, including those for strengthening, stretching, and alignment.
Pilates Chair or Wunda Chair: A compact chair with springs and one or two pedals. Users perform exercises by sitting, standing, or lying on the chair and using their body weight and the springs for resistance.
Ladder Barrel: A barrel-shaped apparatus with ladder-like rungs on one side. It's used for exercises that combine stretching, strength, and flexibility training.
Spine Corrector: A curved apparatus designed to support the spine while performing exercises that focus on spinal alignment, flexibility, and strength.
Pilates Mat: While not a traditional apparatus, the mat is an essential tool for practicing Pilates exercises on the floor. It's often used in combination with small props like resistance bands, balls, and circles.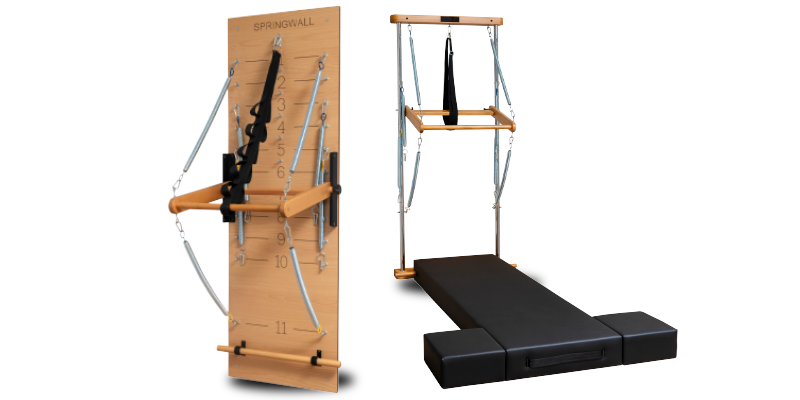 Pilates accessories:­ are additional tools and props that can enhance and diversify your Pilates practice. These accessories can provide extra resistance, support, or challenges during exercises, helping you target specific muscle groups and achieve various fitness goals. Some common Pilates accessories are: Pilates Balls, Pilates Circles or Magic Circle or Resistance Rings, Pilates Orbit or Pilates 8 Shape, Resistance Bands, Foam Rollers, Ankle Weights, Toe Correctors, Foot Correctors, Spiky Massage Balls, Balance Pads, Samll Hand Weights, Stretch Bands, Rotational Discs.
Pilates apparatus are versatile and can be adapted to suit different fitness levels and rehabilitation needs. They provide a unique way to engage and challenge various muscle groups while promoting proper body alignment and movement control. Pilates practitioners often work with trained instructors who guide them through exercises on these apparatuses to ensure safe and effective practice.